I love my pals!
On this page I'll describe
them and their special
place in my life.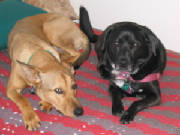 'Sisters'
Shadow
We adopted Shadow from the trunk
of a car at a local flee market.
The day was, February 21, 1998.
She was the runt and one
of the few females.
She loved to play soccer, and
do tricks. She could almost
always pick the hand a
treat is in. She also liked
to play fetch and
show you her tummy..
Shadow's was with us for 11 years!
She gave us so much pleasure!
A dog to some, a best friend to me.
I don't know how many times I've thanked God
for this Angel!
Heaven does have an Angel now!
Sadie
We adopted Sadie from Petsmart.
She was such a joy to watch! She looked
like a 'Sadie' from the start.We named her Sadie.
then found out she was born on February 29th.
Sadies favorite things are: fetch,
with a tennis ball, playing with husky
stuffed animals and being with Shadow.
She loves to get up in your lab.
Sassie
Sassie is sassy! We adopted our little friend in September
of 2009. She has given us much joy,
Sassie's favorites are: People, people, people!
She would love you too if she met you.
Gargusz Hall
1969 N. Ridge Rd.
Lorain, OH 44055
Craft show benefit for Friendship APL
Toni Morrison Elementary School
1830 W. 40th Street
Lorain, OH 44053
Thank you Mrs. Post & Children
Kylee read her poem!!
Amherst Outdoor Author Fest 2009
Where: Roxy's Reads
Address: 132 Park Avenue
Amherst, OH 44001
Date: Saturday, July 18, 2009
Time: 12pm - 4pm
Thank you, Debbie, The Chronicle, Annie, and fellow authors.
6th Annual Fine Arts & Authors Festival
WHERE: 13824 West River Road, N.
Columbia Station, OH 44028
WHEN: Saturday, June 20, 2009
TIME: 10am - 4pm
PLEASE SUPPORT LOCAL AUTHORS!
SUPPORT IS FEW & FAR BETWEEN!!
God Bless!
Schools 2008/09
- Tony Morrison, Lorain
- St. Jude, Elyria
- Westerly Elementary, Bay Village
YOUR SCHOOL 2009/2010?
FOSTORIA'S AUTUMN BOOK FESTIVAL
'Autographed books make great gifts'
Date: October 24, 2009
Where: Fostoria High School
Address:
1001 Park Ave
Fostoria
,
OH
44830